14aug7:30 AM10:30 PMNG712 King's Dominion 20187:30 AM - 10:30 PM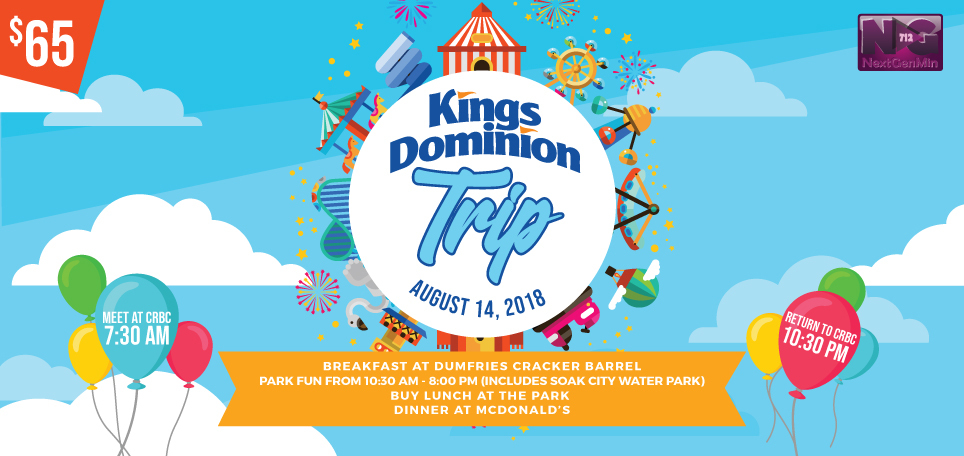 Event Details

King's Dominion Trip – Tuesday, August 14

To register:

*Log in with your parents account and go to the link https://www.crbc.org/nextgen/event-kings-dominion-trip/

*Online registration and full payment is due on Friday, August 10 if you want CRBC to purchase the King's Dominion ticket for you.

*After August 10, participants will be responsible for purchasing their own King's Dominion ticket.

Meet at CRBC at 7:30 AM.
Breakfast at the Dumfries Cracker Barrel
King's Dominion Park from 10:30 AM – 8 PM, including Soak City Water Park.
Bring a swimsuit, towel, sunscreen, pool shoes, and dry clothes to change.
Dinner at McDonald's at 8:30 PM
Return to CRBC by 10:30 PM

Note:

*This entire trip is FREE for the students of CRBC Class of 2018.

*For everyone else, the cost is $65, which includes breakfast, park admission, and dinner.

Any questions, call Pastor Corey at (703) 909-4423.

Please, only register students who belong in your household family.
Time

(Tuesday) 7:30 AM - 10:30 PM
Location

Kings Dominion

16000 Theme Park Way, Doswell, VA 23047